Mobility Wet Room Installation Specialist  As well as bathrooms, we are a mobility  wet room Installation specialist and have been installing t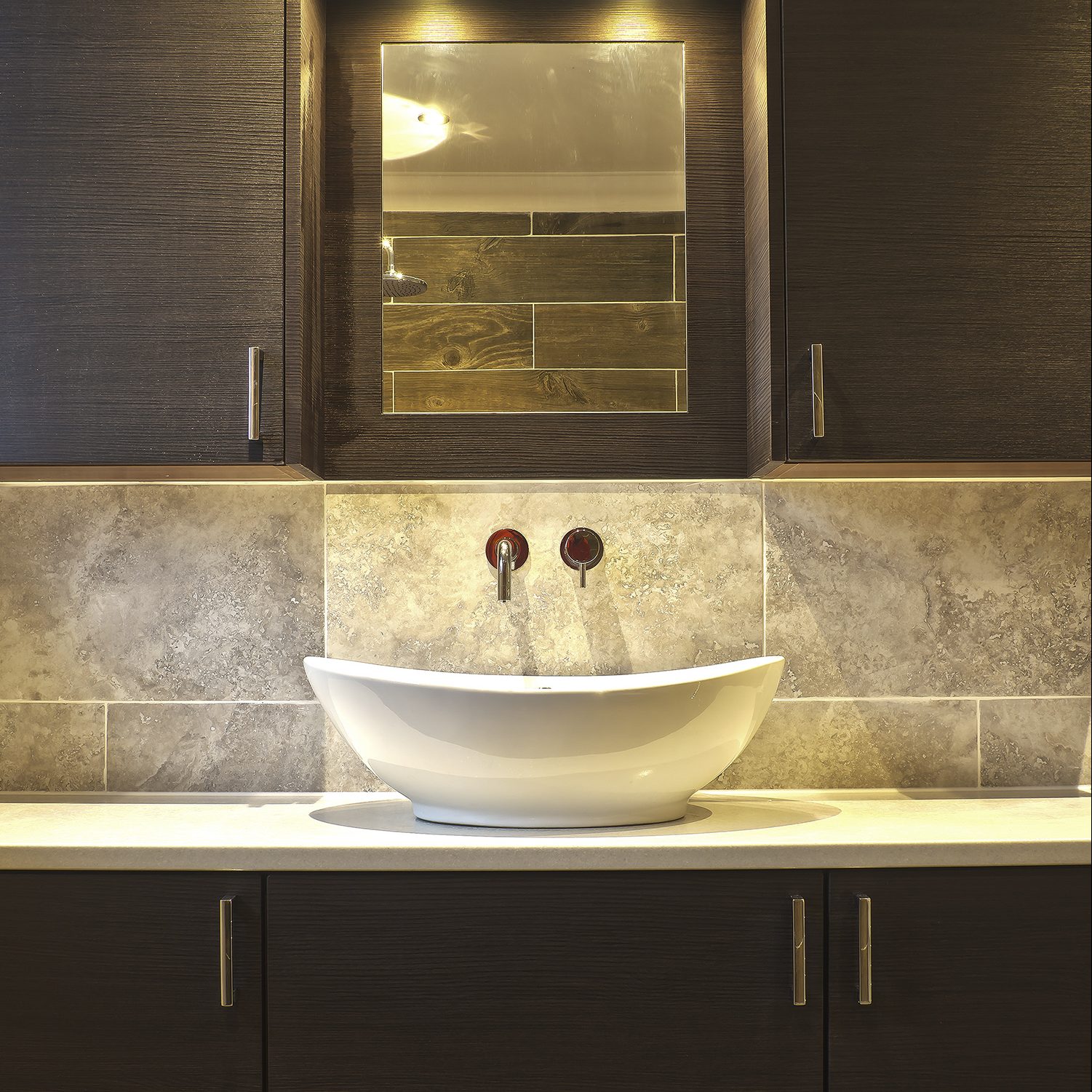 Welcome to Apollo Design
We specialise in wet rooms, having fell in love with wet rooms in Spain, so we have over twenty years experience in Bathroom & wet room installations & design in Suffolk & Essex, installing many in Colchester and covering the South East of England.  as well as bathroom installations and design services. We are fast and efficient, and can cost as little as half the cost of a big company, who normally hire sub contractors. We now cover the South east.
Bathroom & Wet Room Installations & Design, Suffolk & Essex and South East.
So when you want to speak to someone about your project, you call us directly. We can give help with planning and designing Wet Rooms, Bathrooms and Shower rooms. How to simply create a clean, fresh, light and airy looking bathroom. The above are examples of our 'special' bathrooms. But our Bathroom Page contains many normal, real bathrooms, not huge expensive showroom fantasies!!! Although we can build your dream bathroom at a realistic cost. And we can also build you a luxury Wet Room or disability Wet Room at a very competitive price. We will give you a fixed price quote, and references should you wish. Our Wet Room flooring specialist, Top Floors, will also fit your bathroom and kitchen vinyl.
Take a look at our customers testimonials.
Apollo Design Bathroom and Wet Room Specialists Call - 07710812226
What customers have to say

We would like to thank you for the excellent job you did on transforming our bathroom. We are no longer ashamed when visitors ask to use the bathroom! You did the job to perfection, it looks so clean and fresh just what we dreamed of. We have no doub
Derek and Melissa
03/06/2006
I am very pleased with my new bathroom from Apollo. The guys did a professional and efficient job fitting the new bathroom suite and power-shower as well as doing a very nice job with the tiling and floor, all at a very competitive price. They took t
Danny
05/06/2006
We were exploring what options were available to us to convert an existing dressing room and wardrobe into an en-suite and had serious doubts about what was achievable in the space available. We contacted a number of potential suppliers/contractors,
Dave & Jess Slaughter
28th February 2007
In recommending you to anyone I would have to say..... " Alan (Apollo Design) was the jack of all trades and master of ALL. In refurbishing my bathroom his skills were plenty evident in the way he tackled the Plumbing, Tiling and Flooring. When overc
Albert
07 July 2007
We would like to thank you for the great job you did on our bathroom, The half pedestal sink makes the bathroom seem more spacious. The wall tiling is excellent also the laminate flooring looks like real tiles. We would not be afraid to recommend you
June and Dick Clarke
25 July 2007
Sorry its taken so long to let you know just how happy we are with our stunning new bathroom. I would recommend you to anyone for your conscientious attitude to your work. You were professional in every way. You went way beyond the call of duty to he
Adrienne and Greg Fox
15 August 2007
Thanks for the great job with our new bathroom. Hazel and I are extremely pleased with the end result and cannot believe the transformation in such a short space of time. Had we of known how painless the process would be, be would have had you round
Martyn Fulcher
10 June 2008
Just wanted to email you to say thank you for such a fantastic job you have done with our bathroom refit. It is just what we wanted! Certainly, when I decide to refit the kitchen I know where to come!!!!!
Darrel
07 Feb 2009
Old bathroom suite removed and new one fitted, walls re tiled and vanity unit fitted. This firm worked professionally to a very high standard, they went 'the extra mile' to make sure we were happy with the work. We wouldn't hesitate to recommend th
Carole Carter
25 February 2009
Dear Alan, Just a quick note to say thank you very much for the superb work that you did with our bathroom last week. It is completely transformed into a modern, clean bathroom. Both you worked very hard and professionally. I would definitely recomme
Alison Butler
30 March 2009
I am very pleased with my wet room, I found Alan to be very professional and punctual. My shower set-up was quite complicated and was completed without any fuss or bother. His pricing is very competitive, Would have no trouble recommending him to my
Regards Honour Murray
19 September 2009
My bathroom was looking very 'tired', the bath and the toilet needed replacing and the shower was practically useless. I contacted Alan at Apollo design, he arranged to come and discuss our needs and give us a quote for the work that we needed. Wha
David and Jean Askam
22 February 2010
We would like to thank you for all the superb conversion and refurbishment of our bathroom. We never imagined such a transformation was possible. The project must have been a huge challenge, especially knocking down that wall. The casing for the cent
Nick and Jane Robinson
20th August 2010
We had a big problem with a leaking shower tray and waste, which was running up hill and we had to use a sink plunger to empty each time the shower was used. Contacted Alan at Apollo Design and although he was very busy, and as we do not have a bath,
Dave
22 January 2011
Dear Alan, I am emailing you to thank you for the work you have done on my bathroom. You have been highly professional in everything that you have done. Your work is of excellent quality. The whole room has been transformed. I have taken videos of be
Dr Haleem Fadaly
26 Jan 2011
As promised a few words of support.... I liked the fact that Alan was the first to quote for the job and showed enthusiasm for the project. We had a challenge regarding the waste and Alan was not at all phased. Work commenced with his colleague an
Mr S A James
29 June 2011
My mother's move has gone extremely well, thank you. "My disabled mother's move to a bungalow was dependent on a wet room being available. The plumber that looked at the existing small shower room said he wasn't sure it would be possible. However,
Caroline Tompton
05 April 2012
Being new to our area and not being able to secure a personal recommendation, we were initially attracted to testimonials posted on Alan's web site alluding to a friendly, professional service with a high degree of attention to detail. On the strengt
Mr Hunter
13 March 2013
Alan and his team arrived on time and completed the conversion of our en-suite to a wet room within the estimated five days quoted. They did their best to minimise mess and disruption, and worked without fuss, consulting us whenever necessary. They d
Mike Durrant
21 September 2014
A belated thanks for your usual excellent work last winter. You upgraded the bathroom at my flat. I wanted a high-end walk in shower with new tiling, toilet and vanity sink. You did a superb job using a mixture of limestone, marble and quartz tiles
David Perry
19 October 2014
Whilst I was very much looking forward to having the bathroom converted to a wet-room I was admittedly dreading what I assumed would be the very trying circumstances of my having to live within my home, a small bungalow, during the actual conversion
Christine Keohane
30 Aug 2015
Just to say a huge thank you from our family. We are thrilled with our new wet room , it has helped us immensely already. We found you to be professional and swift in your work , very high quality with a beautifully finished bathroom. Can't recommend
Melanie
4 November 2015
I would like to say how pleased I am with the result and would certainly recommend you to anyone who was considering having this type of work done.
Richard Graham
08 December 2015
I really feel it important to voice when a awesome job has been done. I've just had my bathroom converted into a wet room by Apollo Design and I'm so happy and impressed with the result. Alan, Lee, and paul worked so hard, always arrived on time, wer
Trish Halsall
19 Seprtember 2016
Just wanted to thank you for the lovely work you did on our En-Suite, we are very pleased with the finished product and the extra room we have is amazing, you all worked very hard and very professional, would highly recommend your company.
Pauline & Fred Davies
07 January 2017
Wow we were so pleased with our wet room . Can't believe how lovely Apollo Design have made it . They were here on time every day, kept the mess down and were polite . The price was really good, we could not believe the price being so much cheaper, t
Peter and Maxine
03 March 2017
In early 2017, I decided to convert the original 1950's bathroom in my dad's bungalow into a wet room. I initially asked two local plumbing companies to give me a quote - both came and said it could not be done as the bathroom was too small and putti
Mary McNeilly
April 2017
…Apollo designs has recently fitted out a wet room in my house for my elderly Mum. The team were incredibly hard working and their approach was extremely  professional and thorough. I was totally thrilled with the results. Nothing was too much tro
Anita Barber
2017
We are absolutely thrilled with our new wet room. From our first meeting with Apollo Design, it was clear they knew what they were talking about and we knew we were in safe hands.  They were punctual, polite, hard working and tidy. The company sourc
Nicki and Keith
2017
Had our bathroom changed to shower room. Lee, Paul & Alan were always punctual clean & tidy & completed the work within a week at a very competitive price. We were very pleased with the result & would not hesitate to recommend them.
Shirley Hunt
2018
Hi Paul I hope you are well and not working to hard. I would like to thank you and Lee for the professional and excellent work you did in building my wet room. I was very impressed by everyone who was involved. Thank you creating a great wet room
Roy Dennis
November 2018
Well done Apollo Design ! What a great job you have done in remodelling our old bathroom from top to bottom. From start to finish Paul and Dean have carried out the work involved in a very friendly, professional and efficient manner and nothing was t

Apollo Design Bathroom and Wet Room Specialists Call - 07710812226