We project manage your refurbishment from start to finish, and unlike other companies, we do not take a deposit or money up front.
My name is Paul manager at Apollo Design wet rooms, I am willing to call round and give a free quotation as well as some advice. We have been designing and installing wet rooms and bathrooms for over twenty years. We are a small family business and can give help with planning and designing Wet Rooms, Bathrooms and Shower rooms. We project manage throughout and are available at all times for your concerns. Also we do not use subcontractors. You always know who you are dealing with. How to simply create a clean, fresh, light and airy looking bathroom.
Apollo Design wet rooms pages contain normal, real bathrooms, not huge expensive showroom fantasies!!! Although we can also build your dream bathroom at a realistic cost. We will give you a fixed price quote, and references should you wish.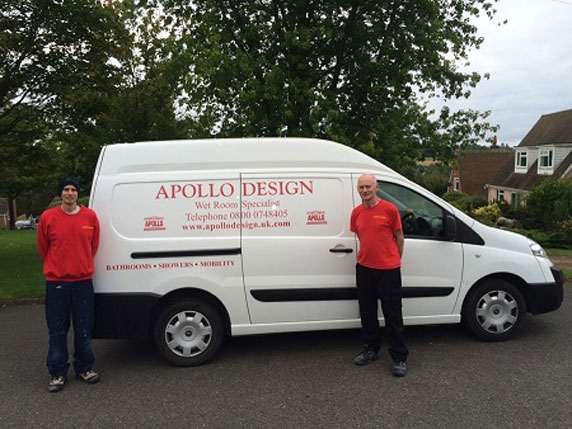 About Alan
Hi, my name is Alan. Thank you for visiting Apollo Design wet rooms.   I am retired now leaving my son to take over two years ago. Sadly, he died in a tragic accident while on holiday on Christmas day 2018… My forever right hand man, Paul, has taken over. We specialise in wet rooms and have been making them since the Nineties having fell in love with them in Spain. We are fast and efficient, and can cost as little as half the cost of a big company, who normally hire sub contractors. So when you want to speak to someone about your project, you call me. We are only too happy to take on major bathroom alterations and refits. We will advise on bathroom design and what can be done. We are a small local, friendly bathroom installation team. For bathrooms we work in the Ipswich/Colchester area and out to Bury, Clacton, Suffolk and North Essex.
For wet rooms we cover some of the South of England.
Apollo Design Bathroom and Wet Room Specialists Call - 0800 0748405
What customers have to say

We would like to thank you for the excellent job you did on transforming our bathroom. We are no longer ashamed when visitors ask to use the bathroom! You did the job to perfection, it looks so clean and fresh just what we dreamed of. We have no doubt recommending you to our family and friends. And we will be coming back to you for our future projects!
I am very pleased with my new bathroom from Apollo. The guys did a professional and efficient job fitting the new bathroom suite and power-shower as well as doing a very nice job with the tiling and floor, all at a very competitive price. They took the time to discuss my options on our initial meeting and they certainly delivered when they arrived to carry out the work, all to schedule !. Thanks Apollo !
We were exploring what options were available to us to convert an existing dressing room and wardrobe into an en-suite and had serious doubts about what was achievable in the space available. We contacted a number of potential suppliers/contractors, none of whom gave us sufficient confidence for us to proceed until we spoke to Alan Boswell. What a breath of fresh air, he offered ideas (and continued to do so throughout as the project progressed) and suggested options we hadn't even considered. We had been thinking about installing a shower cubicle but Alan suggested a wet room which would make the room seem much more spacious. I liked Alan's approach, he cares about the result and the customers satisfaction, he reassured us throughout and offered advice on sourcing equipment and supplies as well as turning up on time every day until the work was complete. We were delighted with the results.
In recommending you to anyone I would have to say….. " Alan (Apollo Design) was the jack of all trades and master of ALL. In refurbishing my bathroom his skills were plenty evident in the way he tackled the Plumbing, Tiling and Flooring. When overcoming the inevitable builders' problems he always took time and effort to choose the best solution rather than the easiest and quickest. I value his helpful advice in making the numerous choices involved in creating that 'smart' finished look that one sees in the magazines. We were so impressed by the results, and value for money, that we have asked Alan to do a similar dream job on our downstairs cloakroom. I cannot recommend Alan and Apollo more highly."
Apollo Design Bathroom and Wet Room Specialists Call - 0800 0748405